Array Microphone Conference Solution
VISSONIC Digital Array Microphone Conference System Solution

Content

1. System overview
2. System advantages and features
3. System connection diagram
4. System equipment description

1. System overview

In the news, there are always 5 microphones placed in front of the leaders. This is not only for backup, but also forms a microphone array. Two or more microphones are placed symmetrically in front of the sound source to enhance directivity and eliminate noise. Enhance reliability.
Based on the characteristics and advantages of the microphone array, VISSONIC developed the SONIC series array microphone conference system.
Microphone array technology and integrated microphones provide a corridor-style feature, which ensures that speakers can have high-quality sound in a wide range of activities. Within this range, the speaker can move freely, stand, sit, turn his head, move forward without affecting the sound effect. Use the silent touch microphone button to turn it on or off.

2. System advantages and features
-Keep the desktop clean and tidy, connect the microphone with a single line, you can choose hiding underneath or from the rear of the unit
-No gooseneck microphone, easy to pick up, cooperate with powerful DSP processing host to prevent howling and realize local sound amplification
-Voice-activated speech, automatically within the pickup range, automatically turns on the microphone when speaking, and automatic conference logic algorithm to ensure smooth speech and reasonable switching
-The ultra-long pickup distance of 80CM forms a pickup capsule, which allows the speaker to move freely and flexibly use body language
-All-digital network core technology, using CAT5e wiring, professional RJ45 connection, host with DANTE protocol output, can be used with a complete set of DANTE protocol audio system debugging to achieve ideal acoustic effects.
2.1.1 Microphone array
VISSONIC array microphones have multiple pickup heads to establish their own pickup channels and ranges. No matter who is speaking, the sound pressure level remains unchanged, reducing environmental noise and ensuring the acoustic feasibility of local sound reinforcement.
2.1.2 Array microphone technology-corridor characteristics
Larger depth pickup range, no need to adjust the direction of the gooseneck microphone; the speaking state is very natural and relaxed, the speaker can turn his head, move closer to or away from the microphone, stand up and sit down, bow or raise his head, while the sound quality remains basically unchanged .
2.1.3 Built-in DSP processing circuit
VISSONIC's all-digital system is equipped with the latest DSP processing circuit, with AEC, AGC, AFC functions.
AFC adaptive feedback cancellation—independent adaptive feedback cancellation, quickly eliminate howling frequency points
AEC echo cancellation technology—eliminates the echo of remote video conference terminals and remote audio conferences
ANC automatic noise cancellation technology-can identify the noise gate through which human voices pass, and effectively eliminate environmental noise
Each unit has its own FPGA chip with 16-band equalization and sensitivity adjustment.
2.1.4 Voice control speech
Automatically within the pickup range, the microphone is automatically turned on when speaking. Different from ordinary threshold voice control, VISSONIC voice control speaks with automatic conference logic algorithm to ensure smooth speech and reasonable switching.
2.1.5 IP-based audio system, supporting DANTE protocol
VISSONIC full digital network core technology, a network cable connected to the array microphone, with POE power supply, and the host with DANTE audio output, which can be debugged with the entire DANTE audio system to achieve ideal acoustic effects.
2.1.6 Mixed use of wired and wireless meetings
For multi-functional meeting rooms, training rooms, conference halls, etc. that often need to be changed, the Chairman unit is generally a limited fixed installation method. The audience seats below are temporarily increased or reduced according to needs. At this time, the wired and wireless conference system is mixed. Provides great convenience, the wireless unit does not need to be wired, and can be placed directly as needed.
2.1.7 HD camera tracking
The system controller has its own camera tracking function, which can send codes to the camera and camera switcher and recorder or seamless matrix to realize automatic tracking and recording of high-definition cameras.

3. System connection diagram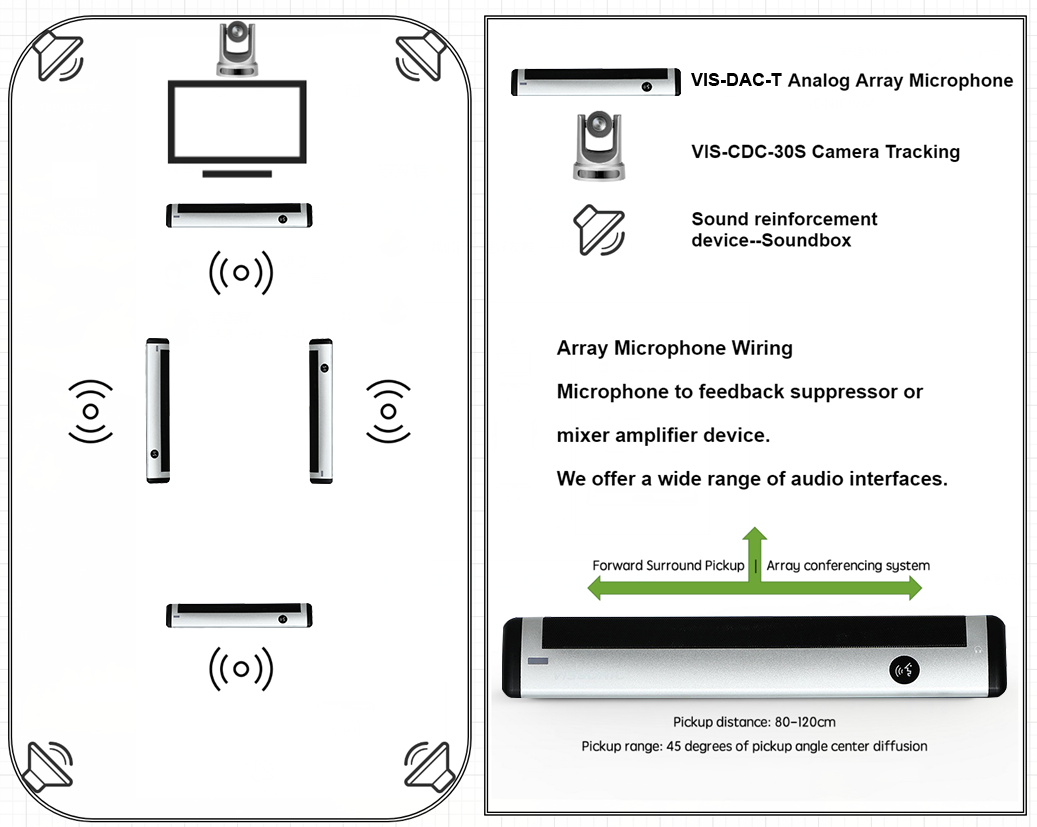 4. System equipment description

4.1 VIS-DCP2000-R Full Digital Networked DSP Conference Processor for Array mic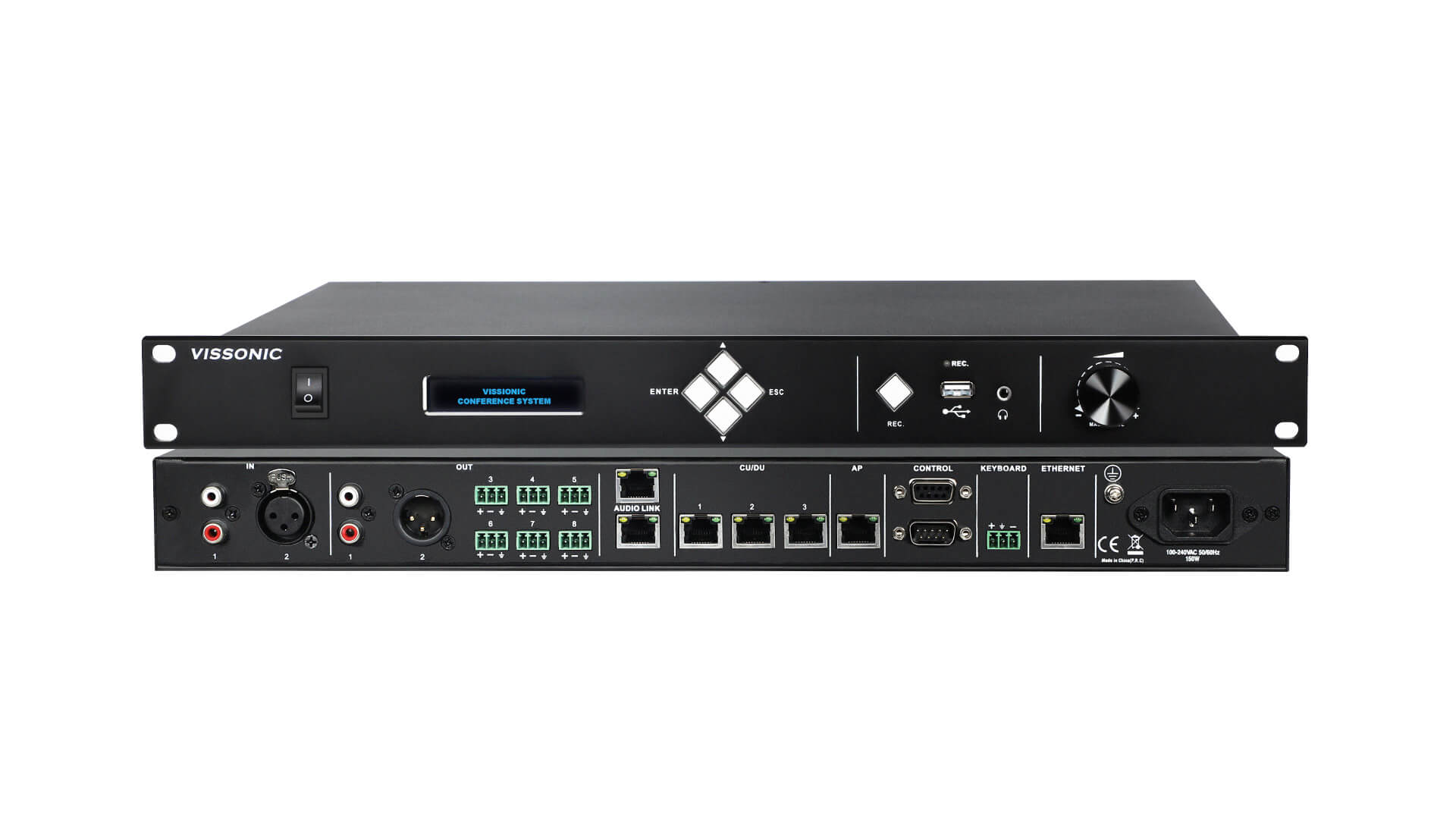 Features
The unique AUDIO-LINK digital ring network technology achieve full-digital signal transmission and processing.
Single CAT5e cable transmits 64 channels of audio and various information.
All microphone units support audio, ID independent output. Working with voice recognition system to achieve voice role separation.
High-fidelity sound quality, lossless audio transmission technology, 48K audio sampling frequency, 20Hz ~ 20KHz response frequency.
A single conference controller can realize the independent control and merging of 4 conference rooms, can handle the cascade of multiple conference controllers to realize the merging and separation of larger conference rooms (including conference management, etc.).
"Hand-in-Hand-Loop-Network" connection makes the system always working perfectly no matter changing discussion unit or having any malfunctioned units.
The sensitivity of the unit microphone and 8 segment equalizer EQ adjusted independently.
The main controller comes with self-learning AFC automatic feedback algorithm, combined with array microphones, short-stem microphones to achieve ultra-long pickup distance.
Support AGC (Automatic Gain Control)/AFC (Adaptive Feedback Cancellation)/ANC (Acoustics Noise Cancellation) Sound output by separated zones function, each zone is automatically adjusted according to the volume of the position of the microphone, achieve longer distances pickup without whistle.
Echo cancellation, remote two-way real-time call with another conference controller or another third-party video conferencing terminal.
USB recording, controller monitor, advanced noise cancellation technology to realize clearer recording.
Display with date, time management, and support speech time, countdown speech.
Optional DANTE output module with other DANTE equipment used.
Can drive 2*120W POE speaker through extension main unit, support up to 16 POE speakers.

4.2 VIS-DAC-T/VIS-DAD-T Digital Array Microphone Chairman/Delegate Unit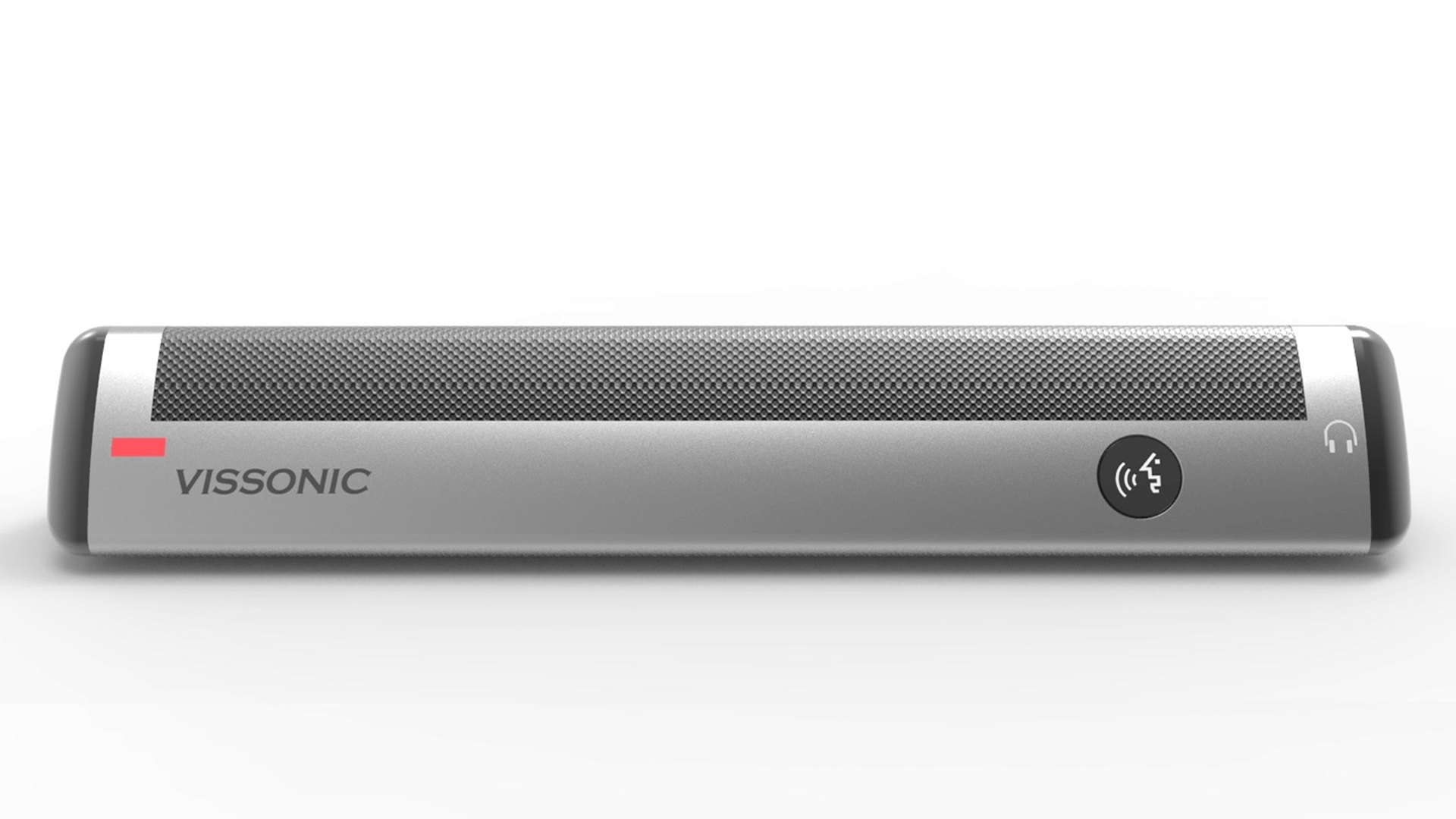 Features
Stylish and modern design with touchable button
ARRA-TechTM Microphone array technology and the voice pick-up distance up to 120CM
Priority button and approval button for chairman unit
Standard CAT5e and RJ45 connectors are used in microphone to provide more convenient on project and maintenance.
One 1.5m cable out to connect the splitter box and keep the table clear
The unique AUDIO-LINK digital ring network technology achieve full-digital signal transmission and processing, completely avoid the RF interference from cell phone or similar devices.
Strong system robust by the "Hand-in-Hand-Loop-Network" connection technology
Support Hot plug and play

4.3 VIS-CNB Splitter box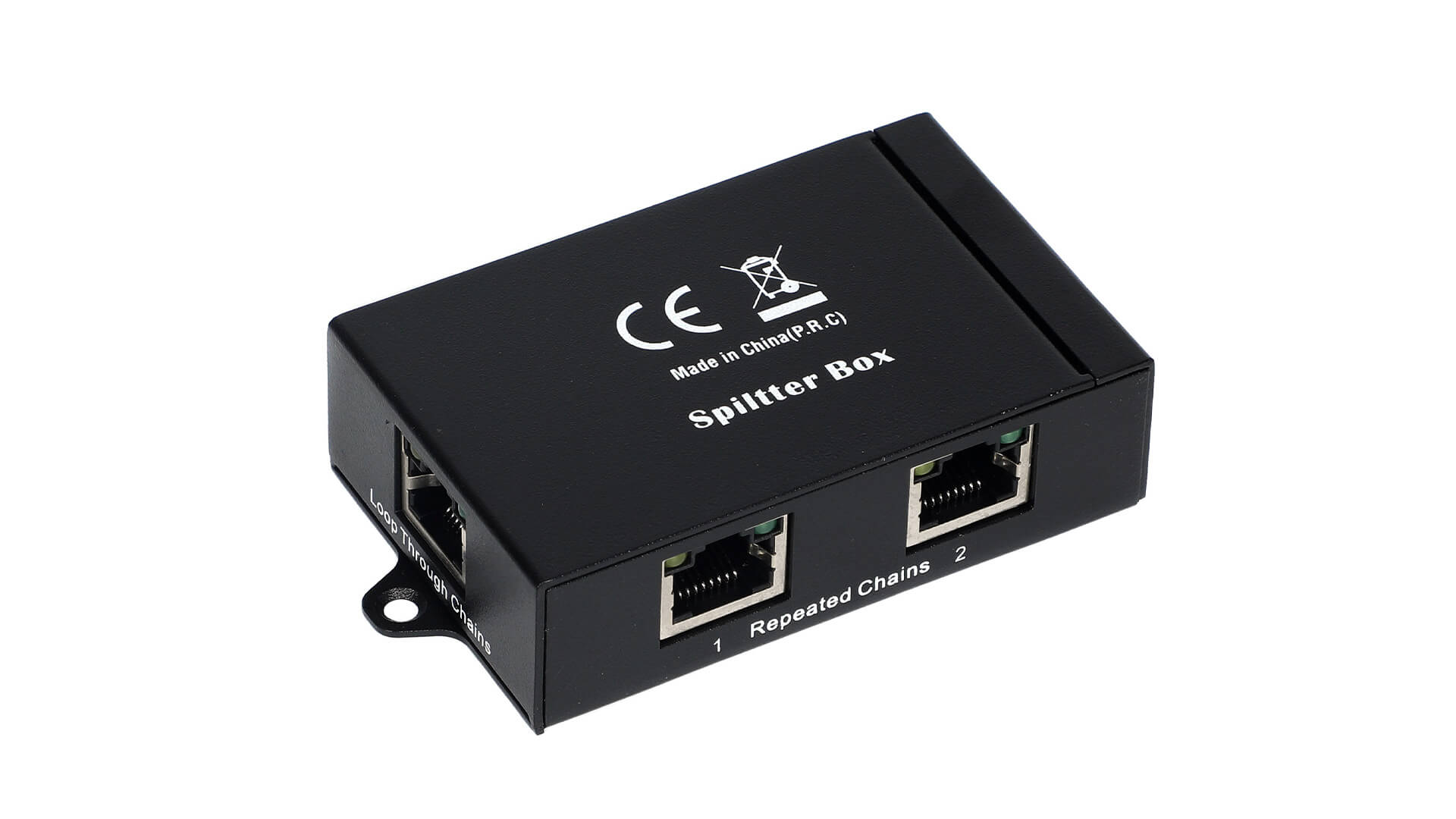 Features
No noise design
Compact size
Splitting two channels for CU/DU

4.4 VIS-CDC Series Full HD Camera
Features

H.265 support
H.265 encoding supports conference cameras, and can realize full HD 1080p / 60fps video streaming through ultra-low bandwidth.
1080P Full HD
Using a new generation of Panasonic's 1 / 2.8 inch high-quality high-definition CMOS sensor with 2.07 million effective pixels, it can achieve high-quality images with a maximum resolution of 1920x1080
Ultra high frame rate
The output frame rate of 1080P is up to 60fps, the output frame rate of 720P is up to 120fps (only supported by the network), and 640x480P can be up to 240fps (only supported by the network, optional).
AAC audio coding
supports AAC audio coding, with better sound quality and smaller bandwidth.
Local storage
supports local storage module, without NVR recording directly to local USB flash drive.
The low light and high SNR of the CMOS sensor combined with 2D and 3D noise reduction algorithms effectively reduces the noise. Even under low illumination conditions, the picture can still be kept clear and clear.
Various interface, support HDMI output, 3G-SDI interface, effective transmission distance up to 150 meters (1080p30 or less). HDMI, SDI, and network can be output simultaneously. It also supports CVBS interface.
20x Optical + 32x Digital Zoom Use TAMRON high quality super telephoto lens, support 20x optical zoom, and 32x digital, 30x Optical + 16x Digital Zoom (Model VIS-CDC-30-S)
Remote Control
Using RS232/485 interface, all the parameters of the camera can be remote controlled by the high-speed communications.

4.5 VIS-DSP8 dB-NET series Digital DSP Audio Matrix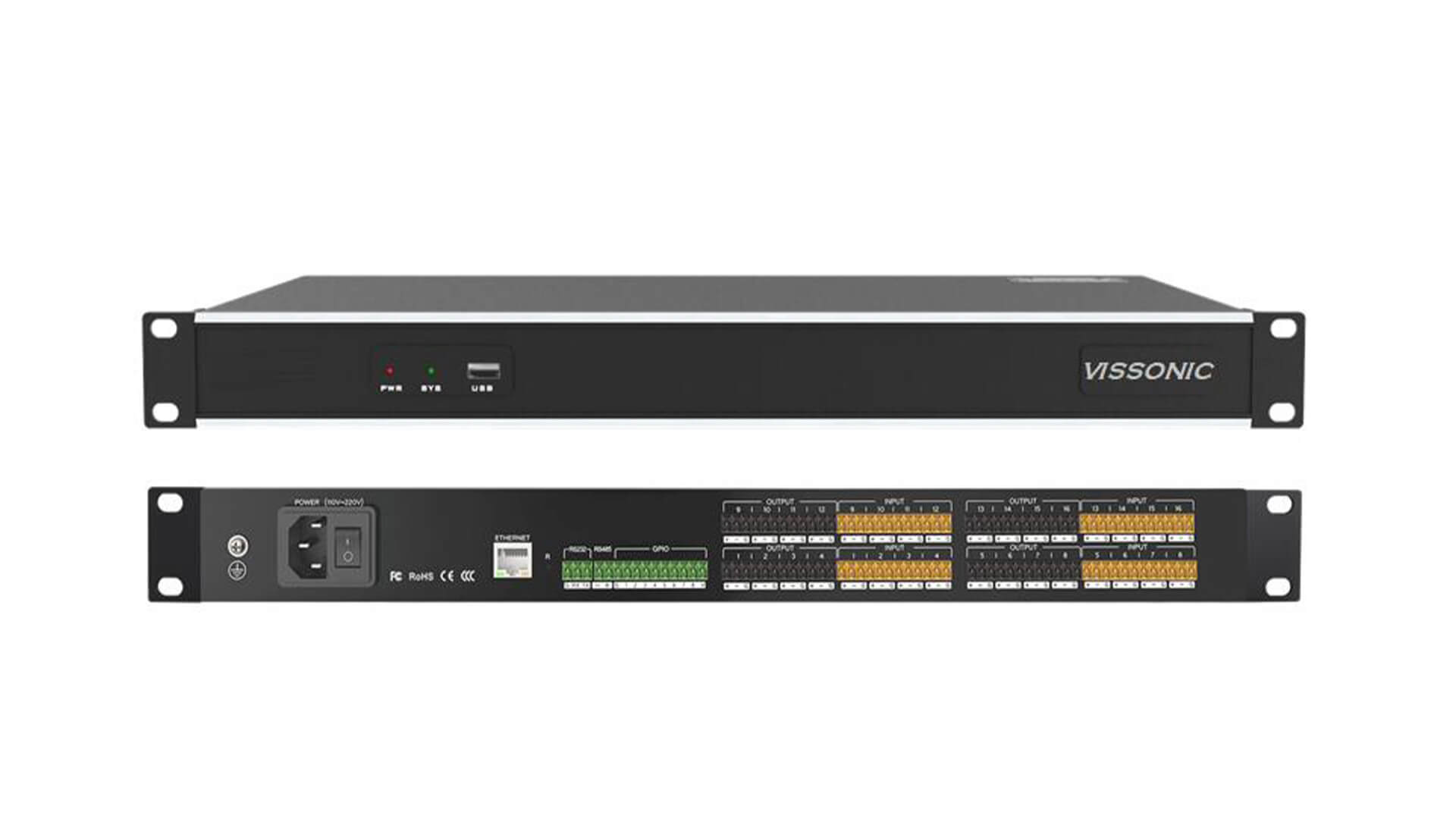 Features

8,12,16 CH balanced microphone input, using the phoenix plug
8,12,16 CH balanced microphone output, using the phoenix plug
A variety of audio formats in front panel can extend the USB multimedia storage for recording.
Can control by PC, mobile phone, tablet, web, key panel, Control system and so on
Main algorithms, such as built-in signal generator, auto mixing, feedback suppressor, echo cancellation, noise cancellation(optional) etc.
Input per channel: preamplifier, signal generator, expander, compressor,5 parameters of equilibrium.
Output per channel: 31 segment graphic equalization, delay, divider, limiter
Full functional matrix mixing, with the built-in patented component matrix adjustment function.
Built-in automatic video tracking function, easy to implement video conferencing, support scene presupposition function, power automatic protection memory function
There are more than dozens of professional audio processing modules, such as: 5-band full parametric equalizer, 31-band graphic equalizer, high-precision compression and limiter, high-sensitive expansion and automatic gain, crossover, automatic mixing Amplifier, delayer, matrix mixer, component matrix adjuster, noise threshold, mute module, signal generator and signal indicator level meter, etc.
The built-in media control code generator does not require the self application formula to edit the code.
The equipment provides a universal programmable I/O port and sets firefighting functions.
RS-232 bidirectional serial control interface; it can control other external devices such as video matrix, video camera and other RS-232 devices, or receive third party RS-232 control
The phantom power supply (each input) +48 VDC10mA.